Today we talk about a advertising material PVC foam board.
Although PVC foam sheets are widely used in commercial applications due to the versatility of the material, what exactly is this plastic? In addition, what are the different ways in which expanded PVC foam board can be used? This plastic has proven to have several benefits that make it a useful material for commercial projects. Take a look at.
What is Expanded PVC Foam Board?
Expanded PVC foam board, also known as expanded polyvinyl chloride (PVC), is a lightweight, rigid form of expanded foam polyvinyl chloride. It is commonly used for commercial applications such as digital and screen printing, lamination, vinyl lettering, signage, etc. Environmentally friendly and non-toxic, expanded PVC sheet offers strength, durability, flame retardancy and chemical resistance, while being easy to cut and mold.
How is expanded PVC foam board made?
Expanded PVC foam sheets may come in many different densities; therefore, the raw materials used to make the plastic are mixed together under controlled conditions and then dispensed into a mold depending on the desired application. The molds are then sealed, clamped and placed in a large press for heating. Finally, the material is expanded in a hot water bath to reach its final destination and cured. After curing, the blocks are cut into sheets of various thicknesses. Expanded PVC foam sheets can be cut to the right size, softened and shaped to meet specific needs just as easily as wood.
Not to be confused with foam board
Expanded PVC foam board is often confused with foam board, but don't get it twisted, there's a big difference between the two materials! Foam board, or foam core, consists of polystyrene foam that can have a paper outer surface on both sides. It is often used for light interior applications. It is also popular for use as a backing material in photo frames or photography as a light reflector. Expanded PVC foam board is super durable, lightweight and flexible, and is made of polyvinyl chloride. Unlike foam sheets, PVC sheets are available in a variety of thicknesses and can be printed on any side. They are also ideal for outdoor applications because they are strong and can withstand harsh weather. Foam boards are suitable for indoor projects as when used with exterior elements, glues, and certain types of paint. Expanded PVC foam board outlasts foam board and is the preferred choice for signage, yard signs, menu boards, directional signs, and more.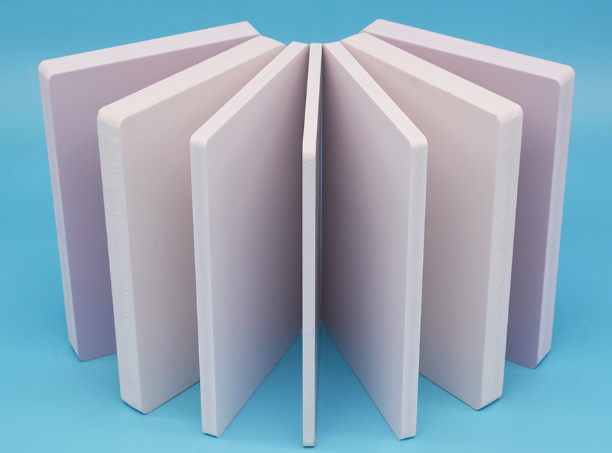 Benefits of Expanded PVC Foam Board
Expanded PVC foam board is relatively resistant to chemical wear and tear and has a low water absorption rate. This ultimately makes it ideal for both indoor and outdoor use and is often used for outdoor applications such as signage because it resists the damaging effects of rain, wind and sunlight. pvc foam is also lightweight, which means it is easier to transport than alternatives such as glass, wood or metal. It is also an affordable option for those who want to provide corrosion resistance and flame retardancy.
Applications of Expanded PVC Foam Board
Because of its strength and durability, expanded PVC foam board is a good alternative to similar materials such as polycarbonate plastic, which can be more prone to scratching. In addition, their resistance to chemical damage makes them ideal compared to other plastics that can be damaged when using aggressive cleaners, such as acrylic.
Perhaps the most common use of expanded PVC foam board is for signage - especially when used outdoors, where corrosion resistance is critical. When business owners need a sign that will stand the test of time, they often turn to expanded PVC foam board.
Once again, because of its durability, it is not uncommon for PVC foam board to be used as wallboard or office furniture. It can also be used for photo mounting.
In retail spaces, expanded PVC foam board can be used for booths, signage or displays. PVC foam board is also available in a variety of colors, making it an even more popular choice for commercial applications that require durability and aesthetics.
Whether you are interested in strong plastics for promotional materials or interior design for office spaces, expanded PVC panels may be the perfect solution for your needs.